From 24/7 chat platforms to telehealth apps, our custom software solutions empower patients to deter unnecessary visits to the hospital and take their health into their own hands.
Witness how Exper Labs helped Your Doctors Online – a HIPAA compliant network of more than 100+ physicians – provide remote healthcare to 300,000+ patients from 61+ different countries around the globe!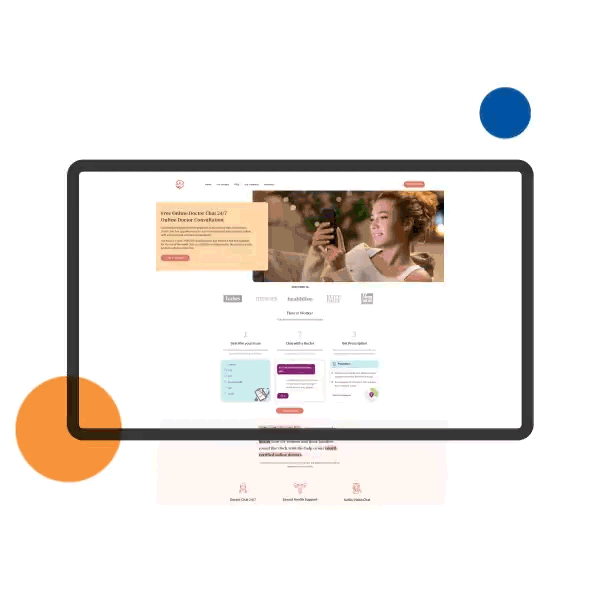 About Your Doctors Online
Your Doctors Online is an online platform that provides remote access to quality healthcare services through a mobile app. It connects patients with experienced and board-certified doctors who provide medical advice at the touch of a button through text and audio/video calls. Their doctors have expertise in different areas of health and work diligently around the clock to provide free medical consultations twenty-four hours a day, seven days a week. By providing 24/7 free access to healthcare, Your Doctors Online aims to eliminate the barriers that keep many people from accessing healthcare and make healthcare accessible to the masses.
Your Doctors Online's primary goal was to allow patients all over the world to get prompt access to remote healthcare by building a 24/7 chatting platform that included real-time texting and audio/video chatting options. However, due to the lack of a customized queuing management system and the high influx of patients, YDO founders were concerned about overburdening physicians with queries or making patients wait in queues to connect with a physician.
Building a Robust Patient App From the Scratch on React Native
To build a customized multifaceted healthcare mobile app for YDO, our agile-oriented developers first acquired the elicit requirements and drew up a feature set. After planning a medical app architecture, they employed the latest technology stack and state-of-the-art methodologies to develop reactive native apps for iOS and Android.
To ensure smoother and more efficient virtual doctor-patient communication, we integrated multiple features into the apps, such as audio and video calling, e-prescriptions, and reminders for medicine. We also integrated the app with Electronic Medical Records (EMR) to bring all the patient's documents, prescriptions, and sick notes to one platform.
At Exper Labs, we understand the need for utmost data privacy, and our developers are well-versed in HIPAA, GDPR, and PIPEDA compliance. By employing industry-leading practices, our adroit developers built custom native applications for YDO that kept patient information secure and confidential.
Integrating a Real-Time Chat Platform Into the App
The core idea behind Your Doctors Online is to provide around-the-clock remote healthcare access to patients around the globe. To achieve that goal, Exper Labs introduced a real-time chat platform into the app that connected patients with a board-certified physician 24 hours a day.
The scalable chat platform allows patients to convey their health concerns to physicians by texting or sending pictures and videos in real-time and receive genuine medical advice within a few minutes. Again, our expert developers employed the best practices to ensure the chat platform was secure and fully compliant with applicable regulations.
To avoid overburdening any physician with queries and maintain an equally distributed chat load, we built the chat platform using a customized queue management system that assigned chats to the next available doctor. Exper Labs ensured that the patients had a well-educated, board-certified physician ready to assist them whenever and from wherever they opened the YDO app.
Building a Web-Based Doctors Dashboard
The network of Your Doctors Online comprises 100+ physicians with expertise spanning many different areas of health. To facilitate cross-department communication and allow physicians to chat with their patients, maintain medical records, and issue e-prescriptions, Exper Labs built a custom doctors' dashboard on ReactJS.
Building a Web-Based Admin Dashboard To Manage Doctors
With a network of more than 100+ physicians, Your Doctors Online required a centralized system to manage the team of physicians. Therefore, our developers introduced a multi-faceted web-based admin dashboard on the platform that allowed the admin to onboard new physicians, manage their accounts, and assign them on a rotating basis to ensure 24-hour coverage.
From connecting with board-certified physicians to accessing medical records with the swipe of a finger, Your Doctors Online has enhanced every aspect of the virtual patient experience with our state-of-the-art software applications. Backed by Exper Lab's expert assistance, Your Doctors Online continues to make access to remote healthcare widespread and affordable for people around the globe.
Want to talk to us
Contact Us