Every company that wants to stay competitive in the market in this digital era thinks about creating a unique mobile app perfectly tailored to their needs. This is due to the perception of mobile applications as a powerful tool for expanding consumer reach and enhancing marketing campaigns. 
The potential for eCommerce businesses is endless. Today, more people than ever are making purchases online. This assertion is accurate for all global industries. With the help of the internet, you may now connect with customers from any location and on any device. The graph below shows the percentage growth of mobile commerce over the recent years in the US, and it is on its path to growing up to 10.4% by 2025 as a percentage of total retail sales. 
A firm cannot succeed with only a website. Numerous marketing strategies and technologies are available to help firms become more visible. These days, mobile apps for eCommerce businesses are crucial to their success since they help to create strong ties with customers. Well-designed and developed mobile apps will increase revenue. An eCommerce mobile app can aid in assessing and managing your business if you need steady growth and sales.  
Here's why you need a mobile app for your eCommerce business to target your potential consumers anytime and anywhere: 
Enhanced Customer Experience
Having a mobile app for eCommerce is synonymous with an enhanced customer experience as the users will have access to your business and its offerings with a single click. It will also add to their convenience as when a customer is quickly researching for something, offering them a personalized experience and giving them access to filters and sorting options, you can promptly discover what they need. 
The necessity for an app with a good user experience is always on the rise, with numerous online mobile apps. Customers will have a better experience on the eCommerce mobile app as compared to the website. To boost your revenue, you should provide your clients with an optimum purchasing experience. 
Increased Engagement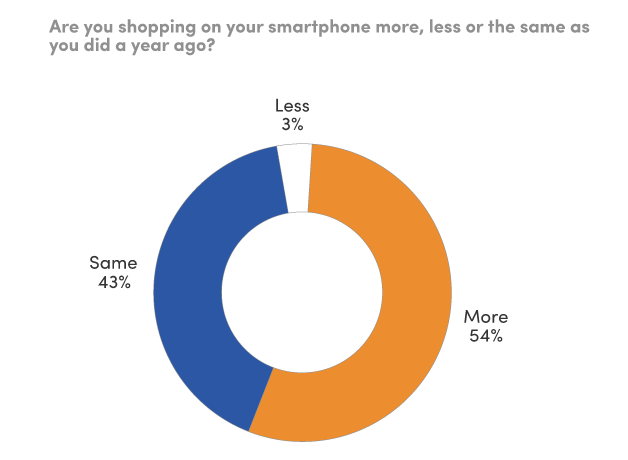 eCommerce mobile app aids in increased engagement of the users. Customers may complete all the transactions with a click of a button or a swipe of the screen. 
Engagement can be increased through several strategies, such as push notifications to grab the attention of the users, simple payment methods, shipment tracking information, marketing campaigns, and live chat support. 
Personalization is also an important factor to drive engagement. A user's past purchases and surfing activity may be simply monitored using an app. This aids in proposing products to the target audience based on their search history. It is a favorite factor of consumers as it makes one feel important to the company.  
As shown in the data above, more consumers in the US shopped through eCommerce mobile apps as compared to the previous year. The more convenience offered to the consumers in terms of notifying them and providing personalized user experience, the more engagement would be driven to the company; hence boosting revenue. 
Higher Conversion Rates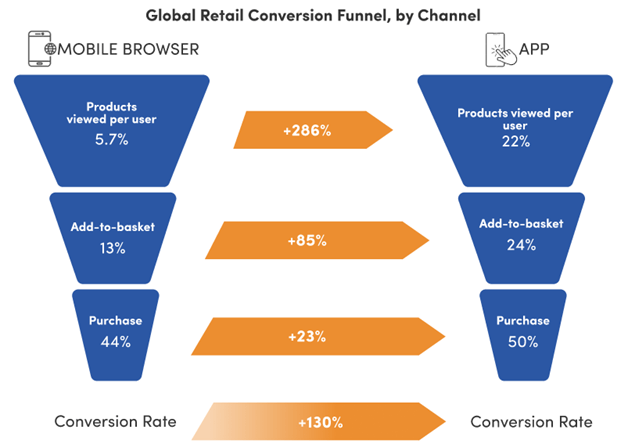 People always have a smartphone in their hands, providing businesses with the ideal chance to market their goods and services. People frequently commit impulsive buying, whether stuck in traffic, waiting for their coffee at a cafe, or scrolling through their social media at night. Such times are ideal for attracting people to shop or pique their interest so they will later be motivated to make a purchase. 
Let's return to the figures. In the end, whatever you do must improve your KPIs. The data above shows that the app is obviously the clear winner. Compared to mobile websites, mobile apps convert at a 130% greater rate. 
Without a shadow of a doubt, mobile eCommerce apps increase conversion rates. In the end, it is the only factor that counts since it generates revenue. The conversion rate is therefore directly impacted by a mobile app. Imagine the growth in your customer base after your app is online. 
More Brand Awareness 
The biggest benefit of using a mobile eCommerce app is that it will make your business more visible. If you provide your clients with a high-quality app, they will value it and share it with others. Numerous applications are used daily by many individuals, yet the bulk of them gets uninstalled since they are either useless or challenging to use. The crux is to use well-designed visuals in your mobile app to convey your brand effectively to your clients.  
If you provide high-quality features, functionalities, and cutting-edge design techniques, your eCommerce mobile app will draw the attention of the users. 
Furthermore, offering high-quality goods at reasonable prices can increase your brand's awareness among users, resulting in a high brand reach. 
Convenient and Secure Payment Methods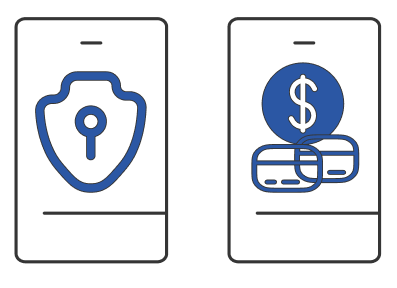 Paying using credit/debit cards, UPI, smart wallets, and other integrated secure payment methods are made simple by eCommerce mobile apps. In contrast to repeatedly filling out the same information on the website, it is simple for the user to retain all their account information in the app. The maximum level of data protection provides complete encryption of payment-related data storage. Mobile apps can also eliminate the chance of fraudulent credit/debit cards due to Touch ID Technology. 
Customer Loyalty 
Customer retention depends upon their loyalty to the brand. According to Harvard Business Review, a 5% improvement in customer retention rates results in at least a 25% boost in profitability. Companies that recognize the value of client retention put a lot of effort into giving their current consumers a smooth shopping experience. Customers today want instant results with just a few clicks, making it hard to keep up with their demands without providing online services. Besides, many mobile app users believe that a good mobile experience will encourage them to return for more. When it comes to desktop websites, achieving this devotion is not a piece of cake. 
If you offer them reliable and high-quality services, they will continue to interact with your brand. You may grow your client base by offering them customer care that is available round-the-clock and establishing loyalty programs that reward them with coupons for discounts. All of this is simpler and more manageable through an eCommerce mobile app.  
Final Thoughts 
Managing a prosperous eCommerce business is quite challenging. A smart product owner may do it much more quickly and easily by employing the most recent digital strategies. An e-commerce business can fix all of its flaws if it develops a mobile app for its offerings. The majority of users prefer eCommerce mobile apps to their websites, therefore, a mobile app boosts sales and profits for the business.  
Now that you are aware of the significance of mobile apps for the success of your eCommerce business, it's time to take action. You may hire a leading eCommerce mobile app development company, such as ExperLabs, to create a premium mobile app for your online store. Specializing in developing high-performing, robust, and scalable solutions with a seamless user experience, we create state-of-the-art and bespoke mobile apps for your eCommerce business to enhance your brand awareness and visibility. Reach out to us now to give your eCommerce business the boost it needs!